Back To Our Services
Garage Door Clicker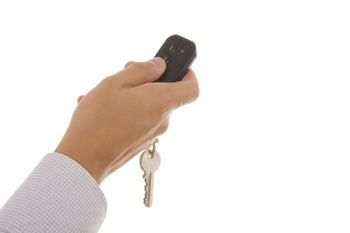 We are the premier garage door company in the area because we offer superior workmanship and neighborly customer service. It is our pride and pleasure to serve our friends and neighbors. In addition to garage door repair, replacement, and installation. We can:
* Choose a new garage door clicker
* Install your garage opener remote
* Perform garage door remote repair
Program Intellicode clicker
The type of garage door remote clicker home owners need depends on the level of security they desire. The door is usually an entry point into the home as well as the garage, so criminals will sometimes try to gain access to vehicles and possessions through this point.
Genie Intellicode Remote
Traditional/Single Code/Universal
A traditional remote for a door is a single code design that works with a specific opener or receiver. In other words, every time you push the button, the remote sends out the same code to trigger the opening of the door. This is the least secure type of remote because it is traceable by criminal tracking technology. Universal remotes are single code remotes that can be programmed to a variety of opener models. Many people believe that the Clicker is the only truly universal remote. Clicker remotes are great when you have lost or damaged a remote, but the opener in still in good shape.
Rolling Code
Rolling code remotes are difficult for tracking technology to trace because they send out a different code every time the button is pushed to open the garage door. The most popular rolling code remotes are the Liftmaster Security and the Genie Intellicode.
Multi Code
Your Multi Code remote approaches security from another angle. When the button is pushed, this remote will send out several codes on multiple frequencies.
When you need help with your Liftmaster Security, Genie Intellicode, Clicker, Multi Code, or other garage door clicker, we can help you out.
Back To Our Services